The Fishbowl Blog is designed to give you the latest news on what's coming out of Fishbowl in terms of its products and services. Along the way, we share a lot of valuable information about best practices in warehouse management, manufacturing, supply chains, and more.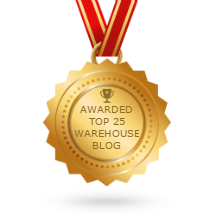 We've published more than 900 blog posts on here since 2010, and we're still going strong. While we never wrote anything with the express aim to win an award or get any kind of outside sanction, it's gratifying to know that our work is recognized as being of value.
Feedspot recently included the Fishbowl Blog on their list of the top 25 warehouse blogs and websites for warehouse management professionals. The Fishbowl Blog came in at #9 on the list. We're in good company with many other ones, and we post more regularly than most of them: three posts every week! We also have the best Alexa rank on the list outside of Reddit and Google.
Thank you for being a part of the Fishbowl Blog and continuing to come back for important news and updates pertaining to Fishbowl software and other industry innovations. We'll keep going for many years into the future, and we invite you to join us for the ride.